Hello everyone, I thought I'd give this a try again. I am looking for someone to collaborate with on a story. There are a couple of different ideas I have but we wouldn't have to do any if you have a story that you would like or if you would want to start from scratch and see what we can come up with together. I also don't have any long term plan of what we would do with this, I would like to make it a digital comic but we can discuss that or if you'd like, we can submit to different publishers. We will discuss that when we are ready. The one thing I would like though is to have someone down the line help me with website workfor this project and I would like to live stream me drawing our comic to try and build a fan base. So I would like someone who would like to share his voice to he stream so we can have engaging dialogue to hopefully get other people interested. That would be down the road after we figured out exactly what we are doing. Here is a link to my work, there isn't anything really new there, I've been working on something for a while now and I can post any of it, that is why there is nothing new.
my art
Here is a quick doodle of a character that I would like to work on. It's a zombie comedy thing.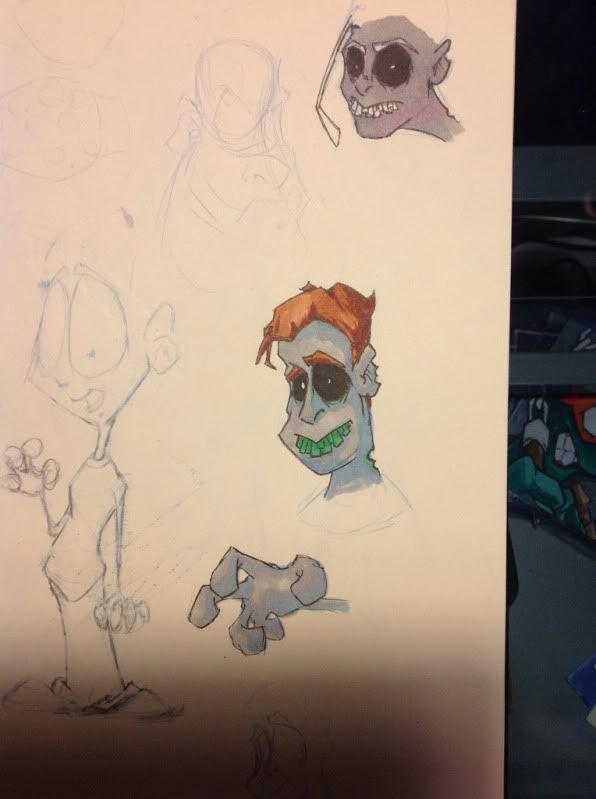 Anyway, I hope to hear back from you.
P.S. I know a few of you responded to my last post looking for a writer, I lost my hard drive and thus lost all your emails.
I forgot to add
my email
. Sorry about that.